HIPAA Compliant Faxing Solutions for the Healthcare Industry
Designed with the rigors of healthcare in mind, Sfax is a HIPAA compliant cloud
faxing solution for every type of healthcare organization.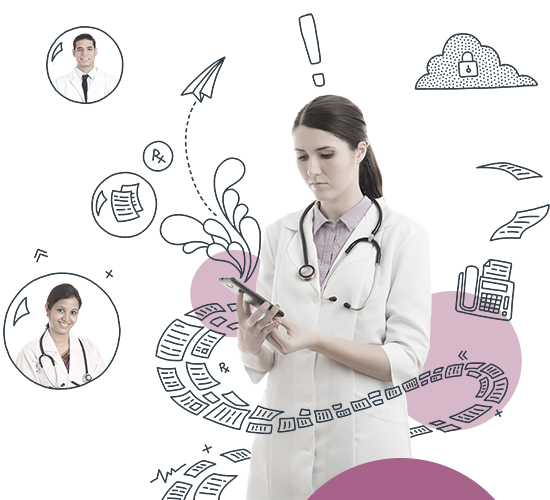 Secure Faxing Solution with a BAA
---
Compliance with HIPAA (the Health Insurance Portability and Accountability Act) means Healthcare Organizations (HCOs) need to keep electronic records and automate processes. By deploying cloud-based services like Sfax, healthcare providers can instantly streamline operational efficiencies as well as improve the vital exchange of information. Our solutions are designed for:
Physicians and Clinics
Physicians and office managers are constantly looking for ways to improve efficiency and save money. Sfax's cloud faxing service achieves both.
Hospitals
Hospitals have enormous challenges in handling
faxing. Sfax eliminates the nuisance of manual
processes and paper.
Home Health Hospice
Sfax delivers flexibility for home health and hospice professionals in their offices and on the go.

Medical Billing Companies
Medical billing companies are flocking to Sfax for our industry-leading performance, image quality and reliability to meet their specific needs.
DME
Durable Medical Equipment (DME) companies rely on Sfax to receive requests for equipment and respond to those requests faster at lower cost.
Labs
We have a number of labs that rely on Sfax every hour of every day to get results processed quickly and reliably.
Pharmacies
With Sfax you can receive prescriptions via our web portal, into a folder on your network, and use our service along with 3rd party applications.
IT Consultants
Healthcare solutions across the U.S. have integrated Sfax, including home care applications, ePrescribing and billing solutions, providing a HIPAA-compliant audit trail..
EHR Integration
Sfax is used with many of the top Electronic Health Record (EHR) solutions in the US either alongside the application or integrated into the EHR itself.
Protect Your ePHI with Our Security, Designed with HIPAA in Mind
---
Sfax was designed with the unique security needs of HIPPA in mind. With our industry-leading security solutions, patient documents, health information and financial data are fully protected by the most advanced security protocols for digital faxes. These include:
256-bit TLS encryption, 2048-bit private keys and AES multi-layered encryption for all documents, in transit and at rest.
Detailed logging and audit trails for every transaction.
Redundant state-of-the-art data facilities with SSAE16 Type II secured facilities in the USA, as well as backup power, internet and hardware capabilities.
An easy-to-use admin panel that makes it easy to control access to ePHI through account-based permissions with user names, passwords and more.
Don't compromise. Ensure your organization's critical healthcare data is only available to approved individuals with secure fax. Learn more about our HIPAA security compliance.
We Sign BAA's
---
Your fax provider is a Business Associate, and needs to sign a BAA in order to keep your business HIPPA compliant. Sfax steps in where many providers refuse to sign. With a signed BAA in place, you can fax secure in the knowledge that your business process requirements are met. Contact a Sale Representative today to learn more about our BAA process - 1-877-493-1015
Reduce Your Overhead Costs with Cloud Faxing
---
Faxing doesn't have to be expensive. With a variety of HIPPA-compliant plans to choose from, Sfax offers the options to meet every organizational need. Scale up or down as your business requires, and control costs by allowing multiple end users to share a single fax line. Pay for only what you use, and enjoy transparent billing that gives you complete control over your spending. Eliminate the costs associated with manual faxing, from expensive fax machines to IT support, ink, paper and more.
Improve Your Team's Productivity
---
Few industries face the demand for productivity that healthcare does today. Every minute counts – for both your bottom line and for delivering high-quality patient care. Eliminate unnecessary delays with features that are designed to help your doctors, nurses and staff send, receive and sign faxes from any internet-connected device. With unlimited ports, auto redialing, delivery confirmations and an audit trail for every version of a faxed document, your team will never waste time standing in front of a fax machine or hunting down incoming faxes.
Simplify IT Administration
---
An integrated dashboard makes it easy to manage account administration. Multiple users can be assigned to a single fax number, with dedicated and HIPPA compliant individual accounts or multiple numbers under one admin account. Assign different levels of administrative access, depending on your organization's unique needs. Access detailed reports any time, including a complete audit trail for every fax that's been sent and received. If you ever have questions, Sfax cloud faxing plans offer 24/7 support with HIPPA-trained agents who are available by phone, email or service ticket. Our support staff is located in the U.S. and if you call, you'll get a support specialist on the phone the first time.
Healthcare professionals and organizations rely on faxing to transmit prescriptions, digital health records and more. Choose a cloud-based fax provider that lets busy doctors, nurses and staff send and receive faxes securely from any device. Rest assured that your confidential patient information will remain secure, protected by the most advanced security protocols in the fax industry.